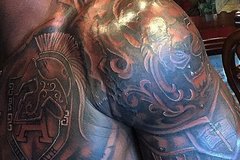 The running back tweeted a picture on Friday night of his new tattoo, which runs over his chest and down his left arm. The tattoo is designed to look like body armor, with a letter "A" and the inscription "Shield of Faith" over Peterson's heart. His left shoulder is tattooed with a lion, and a sword running down the middle of an open Bible.
With the picture, Peterson tweeted Ephesians 6:10-19, which tells Christians to "put on the full armor of God."
Peterson's ninth season in the NFL begins with unique circumstances; the 30-year-old running back played just one game last season and eventually was suspended after pleading no contest to misdemeanor reckless assault in November for injuring his son in an act of discipline. He returned to the Vikings in June, but has been fairly tight-lipped since ending his 8 1/2-month absence from the team.
via ESPN
Originally posted 2015-07-26 17:32:25.